Flooring
Working with our suppliers: Bella offer a stunning range of floor and wall tiles to meet every taste and budget. The selection is endless and includes ceramic, porcelain, granite, glass, natural stone and mosaic. We even have a lovely glossy anti-slip floor tile; making it ideal for a bathroom or kitchen.
Once you have made your selection we can offer the services of our expert tiller - even if you don't buy from Bella we can still fit your tiles. Our price will include the grout and adhesive!
Bella kitchens can provide all the finishing touches to your new kitchen, bathroom or bedroom and flooring is no exception. The flooring choices we provide are as follows: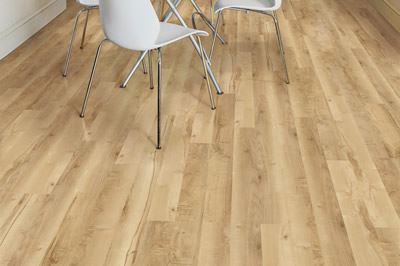 Tiled floors
We have a beautiful range of stone, porcelain and ceramic tiles available to view in our showroom. Our range of HD tiles are proving very popular as it gives our customers the luxurious look and feel of real stone, without the price tag of the natural products and the extra work and cost involved in sealing the natural stone. With HD tiles, the latest technology enables a photo of a natural stone to be super imposed onto a ceramic tile, with stunning results.
Camaro
This type of flooring is currently are best selling flooring option. Camaro is a vinyl flooring which is laid by being stuck with adhesive, although it is vinyl it is not a vinyl lay which comes in a form of a roll, it is individual pieces in either tile or plank format. So you can make your floor look like a real wood floor or a real stone/tiled floor. This flooring is very hard warring , while being warmer on your foot than a tiled floor. The wood effect planks are proving very popular and are often used throughout all rooms in the house. Camaro is a product to compete with brands such as Karndean and Amtico, but at a more affordable level.